WooCommerce is a free, open-source WordPress plugin that can turn your basic platform in a powerful e-commerce solution. It is a great tool, chosen by many users due to its intuitive interface, variety of functionalities and reliability. Here you can check our WooCommerce hosting plans.
The idea for this platform arose in 2008. First it was a small project developed by three people who hadn't even met each other. They started by developing a theme and then stacked their efforts and slow and steady headed towards their present position. In 2015 WooCommerce has over 7 million downloads and the team already has 55 members from 19 countries. In 2016 the platform has a major share in the e-commerce marketplace with its nearly 18 million downloads.
You can find more information about the plugin, the developers team and its history on the official WooCommerce website.
You can also download the plugin itself from the official WordPress plugin repository.
Many customers that need to develop an online store are prone to build it using the WooCommerce plugin. To depict its share among the overall usage of e-commerce platforms we have made a research and here are the results: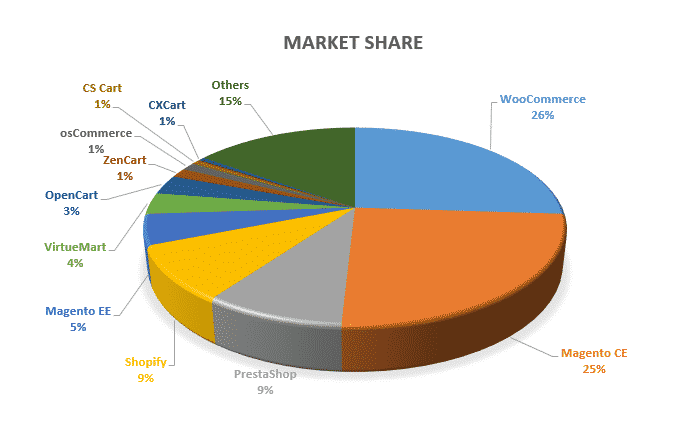 As you can see from the chart above around 25% of all users who are building an e-commerce website are using WooCommerce.
Let's see the basic advantages of using this WordPress plugin instead of other platforms:
The script is free
WooCommerce is easy to use
It has a lot of built-in functionalities
There are a lot of themes developed for WooCommerce – both free and paid ones
The script is regularly updated and therefore – secure
It has a large community, which is great if you have any issues or questions
The WooCommerce plugin, available for WordPress allows you to build an online store full with functionalities and customizable look. You can add and manage products, organize them under specific categories, manage the prices, taxes, shipping and payment options.
Flagman Comparison
Since WooCommerce and Magento are the two mostly used platforms for online stores, actually taking over 50% of the overall usage we are bound to make a comparison between the two of them.
Magento is popular application among large companies who can afford hiring a website developer or a team of such who would manage and keep the website up and running. It is scalable solution and it is perfect for those with grand plans for the near future. However for running Magento you will need a huge budget for setup and management.