How to export orders in WooCommerce
If you wish to keep the orders in your website saved on your local computer this tutorial is for you. We will guide you through the steps necessary to export the raiders from your Ecommerce website.
Exporting files with WordPress and Woocommerce is so easy.
The first thing to do is access the admin area of your website(yourdomain.com/wp-admin). If you account resides on our Managed WordPress accounts go to your account with us → Hover over the TMD logo → Websites → Manage Website → WordPress Admin URL
Once you are logged in go to Tools → Export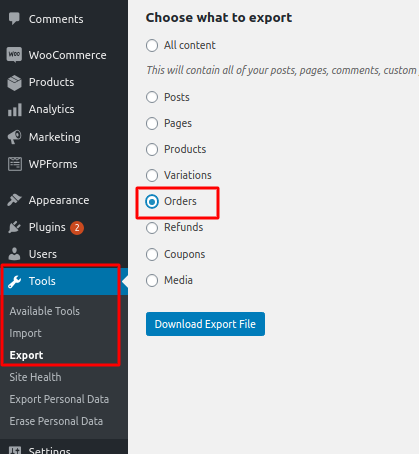 Choose "Orders" and click on "Download Export File". This will download the orders into a XML file.
You can also use plugins like Order Export & Order Import for WooCommerce which can help you to import and export orders or customers from your store in a CSV file if you wish so.