Joomla Search Engine Optimization (SEO)
If you want to have the website better indexed by the search engines, such as 
Google
 and
Yahoo
, the pages must have meaningful names. For this purpose we will use Joomla's SEO feature.
You will have to enable mod_rewrite if you want to use SEO for your Joomla installation. Mod_rewrite by default enabled on all 
TMDHosting servers
 and, you will have to rename the htaccess.txt file in your Joomla installation directory to .htaccess in order to enable the rewrite rules.
Next, you should enable Joomla's SEO functionality from Site -> Global configuration in the admin panel.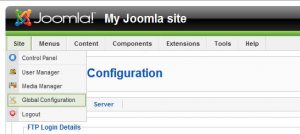 You can change the Metadata Settings about your site along with other useful information in this page. Although we are interested rather in the left part – "SEO Settings", we will change to Yes "Search Engine Friendly URLs".
Then we will click on [Save] from the top right menu. This will change the link to the "About us" page, as in the example
from:
https://your_domain_name.com/index.php?option=com_content&view=article&id=1&Itemid=2
to
https://your_domain_name.com/index.php/About us
Joomla is not

right for

you?