Prestashop itself comes with a fully operational system which allows the configuration of SMTP through its backend. In order to access the page in question, access your admin area and navigate to Advanced Parameters -> E-mail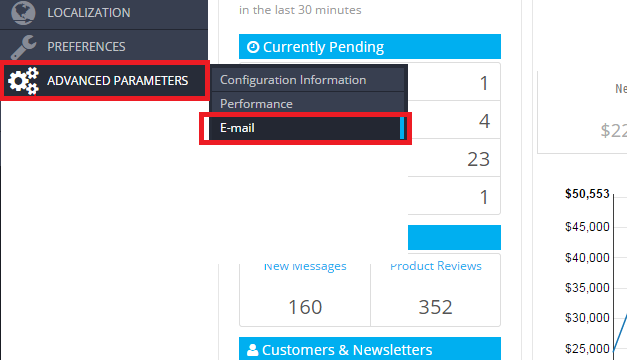 Оnce you access the above-mentioned you will be presented with all the mailing options which we will review down below on how to configure.
In order to activate the SMTP mailer you will need to access the "Set my own SMTP parameters (for advanced users ONLY)" from the mail section of the config page.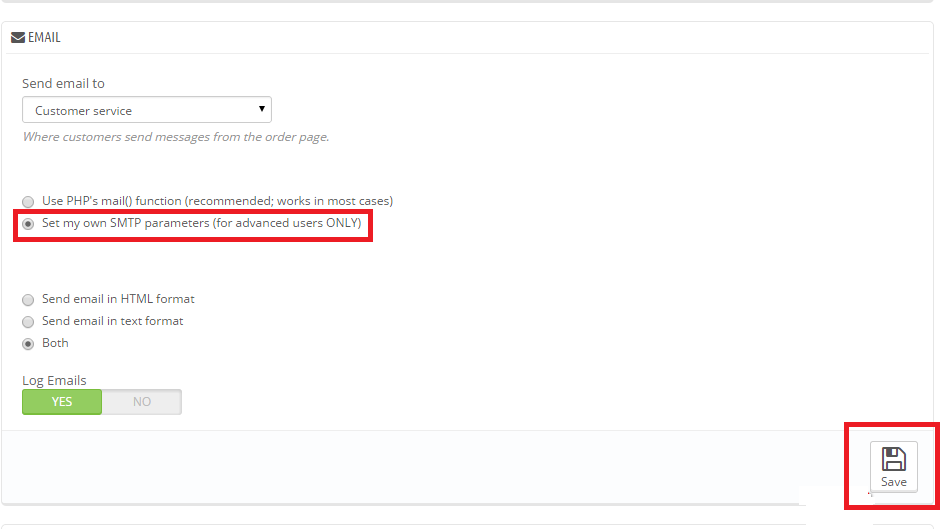 Once you have selected the option – click on Save, so that the settings could get saved.
This will allow for the SMTP settings to show up below the form and you will be able to configure them accordingly to your design. Those settings are the most basic required for the protocol to be utilised by the server's PHP scripts.
Mail domain name – The domain name of your store

SMTP server – This can be your actual domain name or the IP address of the web hosting server where your account is hosted at

SMTP user – The username for the SMTP mail service. Usually this is an actual email account you have created via your cPanel → Email Accounts-

SMTP password – The password for that email account

-Encryption – If the web hosting server where your account is hosted support Encryption methods for the SMTP service here you can define them. For the shared hosting packages we offer you should use none as if you choose encryption you will need to use the hostname of the server as My Domain name in this configuration screen

Port – The default port of the SMTP service is 25 and here you should specify it
Once those settings are in place and saved you will be able to test out if the configuration is working correctly by using the final section at the bottom of the page – Test your email configuration. Simply input the mail in question and use the "Send an email test" button.

If you experience any issues with these feel free to file a ticket to our Support team and we will help you out right away!