How To Configure Your OpenCart To Use SMTP?
In this tutorial we will show you how to configure the mail service of your OpenCart store to use SMTP. This mail service is available for all of our hosting packages.
OpenCart and most of the eCommerce platforms as well, is configured by default to use the PHP mail function for managing emails. This feature is kind of outdated now and most of the users prefer to use SMTP. The benefits from this are several. The main difference is that if you use the PHP mail function you can manage only emails hosted on the same server and if you configure the application with SMTP you can host your website on one server and manage the emails on another. Another benefit of choosing this option is the security that it provides.
Note: Before you proceed with the configuration of your SMTP settings you should first obtain the SMTP credentials from your hosting provider. If you are using our email services you can simply submit a new support ticket and our Technical Support Team will provide you with the correct details. However if you are using a third party email service you should first contact them and ask to provide you with corresponding hostname, username, password and port.
Here are the steps that you need to perform to configure your store with the SMTP settings:
Go to the OpenCart Administration Area. It is accessible via yourdomain.com/admin.
Once you are in the dashboard navigate to System > Settings: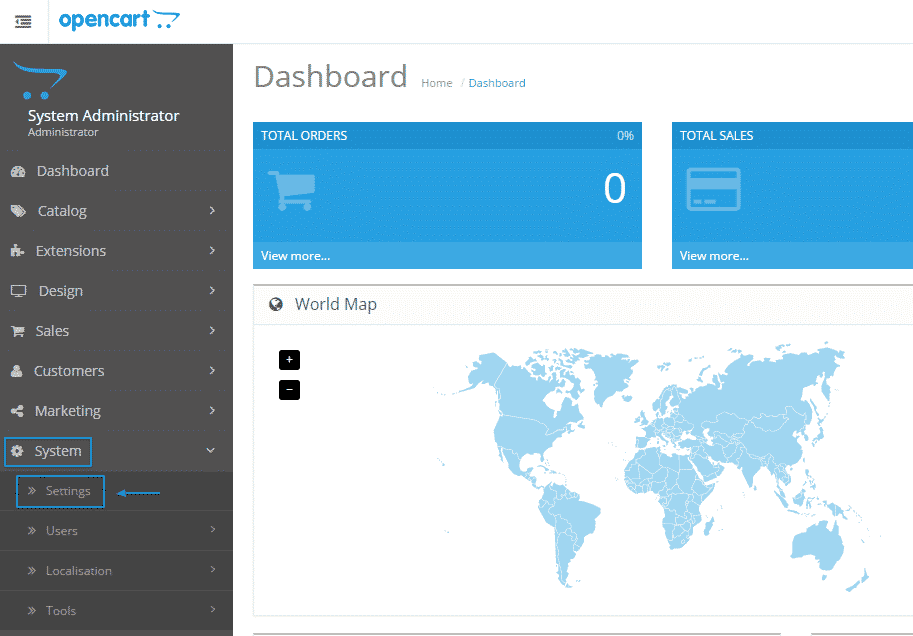 On the page which will be displayed you should see your Store. Click on the Edit button:

Navigate to the Mail section in the settings menu:

There you should apply the following settings:
– Mail Protocol – SMTP
– Mail Parameters – Leave this field blank
– SMTP Hostname – here you should apply either the server hostname or its IP address
– SMTP Username – add your email address
– SMTP Password – apply the password you have set for your email account
– SMTP Port – 25

On the bottom of the page you can specify the action for which you want to receive alerts.
That is all you need to configure on your OpenCart application to use the SMTP service.
OpenCart is not

right for

you?