When you create an online forum it is of great importance that you manage it in a proper way. A key factor of keeping it a comfortable place for sharing ideas and discussing them is to keep on track the users, their posts, the topics which are created and the users behavour as a whole.
In this section of our SMF tutorial we will show you how to moderate your forum, modify, edit and delete posts and also how to move topics which are not in the appropriate section of the board.
Before you proceed with the tasks described further in this article you should first access your moderator account.
Modifying a post
There are actually two ways to edit a post. The first one – Quick Edit – gives you the opportunity to change only the name and the actual content of the post itself. This can be done by accessing the post in question and clicking on the Modify message button on the right:

As you can see in the image that follows, the only active fields are the title and the content:

The other way to edit the post is by clicking on the Modify button at the top right side of the page containing the post:

This will allow you to edit the author details, the title, post icon and also the content. You can also use the editor implemented in the application core:

There are more tasks that you may need to perform when moderating your forum.
Deleting a post
This can be easily done by navigating to the post itself. On the top right side of the screen you should be able to see the Remove button, which will delete the post:

Deleting a topic
This is also an easy achievable task. You need to go to the page containing the topic in questions, navigate to its bottom and click on the Remove Topic button: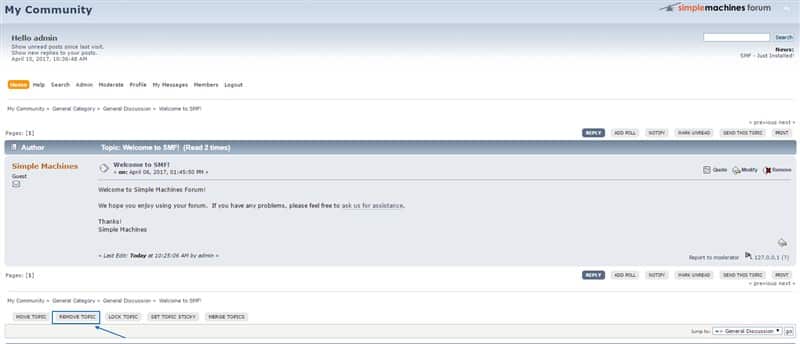 From the same page (the one which contains the topic) you ca also move the topic to another board of your forum. To do so click on the Move Topic button: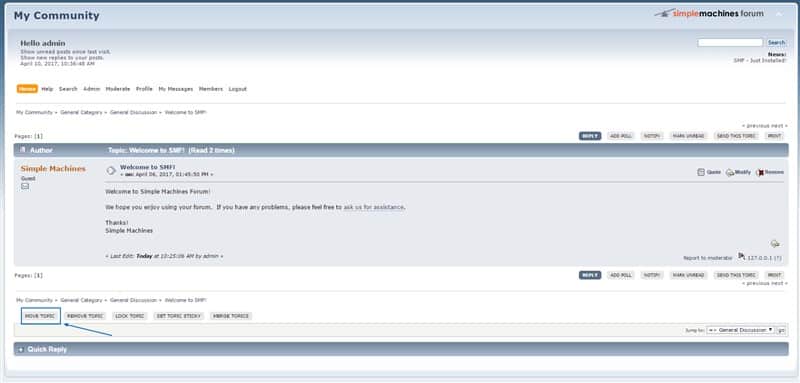 On the page which will be displayed you just need to select the board where you want to move the topic to. You can also enter a description of the reason why the topic has been moved: