In this tutorial you are going to learn how to setup the registration rules/guidelines, terms and privacy policy. To setup those for your IPB, login to the admin area and navigate to "System" > "System Settings":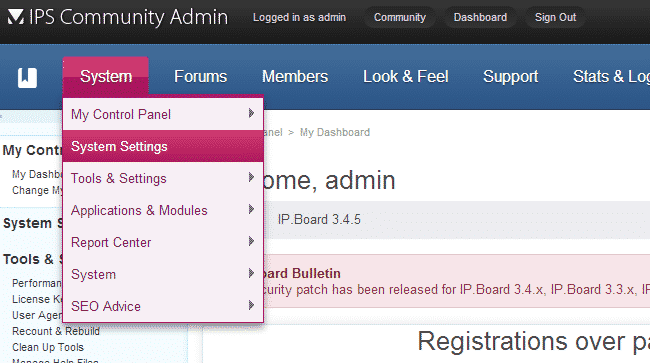 Click on "Community Guidelines":

On the next page you can setup the following details:
Show link to guidelines in footer – if set to "yes", there will be a link to your guidelines in the footer of the site
Title – title of the page
External https:// link to guidelines page – you can leave blank if you do not wish to redirect users to external links
Guidelines/rules text – this is where you input your guidelines.
Registration terms – the registration terms for your board. There will appear predefined terms in that box, but you can modify them per your needs
Privacy Policy – define your privacy policy. There will predefined privacy policy, but you can freely edit it.
Click the "Update Settings" button to apply the changes of your guidelines.