Having a great-looking and unique vBulletin website has never been easier before. Simply choose the vBulletin style that you would like to have on your vBulletin website and our professional tech support team will install it for free in almost no time. Any vBulletin Style installation can be requested from the client's area -> Get Support section -> Submit Support Ticket.
The vBulletin admin panel provides a style and template manager tool via which you can easily modify the default theme or import/install a new one. In order to change the default style, please login into your administrative control panel via https://yourdomain.com/admincp/. From the menu on the left, please navigate to Styles & Templates -> Style Manager.

From the Style Manager, please click on the Go button to enter the editor mode.

Under the Body section you can change your font color and size as well as all the other standard attributes. Additionally, you can change your page background and your table border for the correspondent sections below.
If you would like to change your vBulletin logo, please upload the desired image under your public_html folder and refer to the Image Paths section on the same page.

In the Title Image field you should apply the following path /imagename.ext where the imagename should be the real name of your image (for example ''logo'') and the ext should be the extension of your logo image – jpg for example.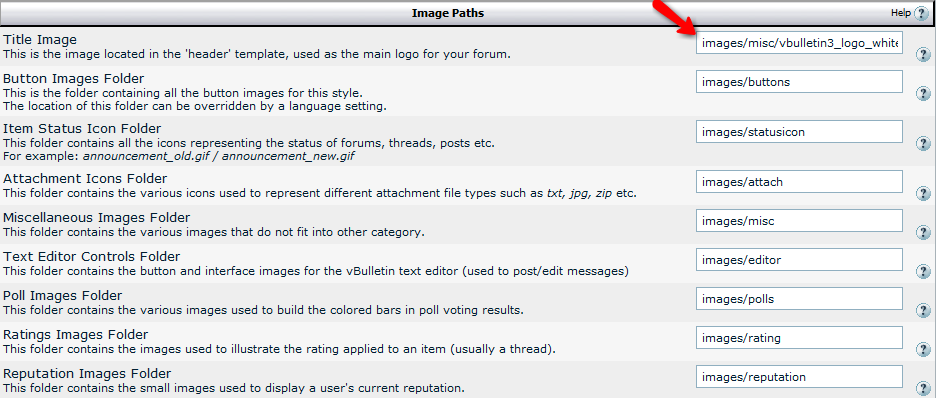 Installation of custom XML style file
If you have a custom Style XML file downloaded from Internet or created on your own you can easily upload it via your administrative panel -> Styles and Templates -> Download/Upload Styles

Installation of an additional vBulletin theme
If you are not satisfied by the default vBulletin theme and you would like to install a custom one, be advised that different vBulletin themes may have specific installation instructions. Still, generally, you can install your custom theme by uploading the folder which contains the images of your template under the /images/ vBulletin directory. As soon as the files are uploaded you will need to import the XML style file by following the instructions above.
If you experience any difficulties to install your theme you can always refer to the readme file of your theme for additional information and step by step instructions. Additionally, you can always request a free professional theme installation by posting a support ticket – our technical support will be glad to assist you further in the process.