In order to create content for your integrated CMS platform you should refer to the administrative panel of Docebo via https://your-domain/doceboCore/. From the admin area, please navigate to the Web Portal -> Pages tab. From the Page Management click on the "root" and add new language area.

On the next page you should select the desired language for your area and save the changes.

This will redirect you to the page management screen where you can select your language area and click on the Add home page link.

You will be redirected to the section where you can create your first macroarea (a category under which your pages can be published) by entering its name, keywords and description as well as choose the desired layout. When you have all the settings configured click on the Save changes button on the bottom of the page. This will once again redirect you to the Page management section. Please click on the new macro area you have created and proceed with the creation of your first page by clicking on the Add Webpage.

When you have your page created it is time to add a content blog which will be displayed on it. This can be done from the Page management section by clicking on the edit Edit page blocks.

On the next page you will be able to add a block on different sections depending on the page layout you have selected. Choose the location on which you would like to add a block and lick on the add link.

On the next page you will be provided with a list of all types of blocks that you can add to the field you have selected. If you would like to create a simple Text page scroll to the bottom of the page and click on the Text link. The next page will provide you with feature-rich text editor where you can create the content of your text page. As soon as your page is ready, please click on the save changes button.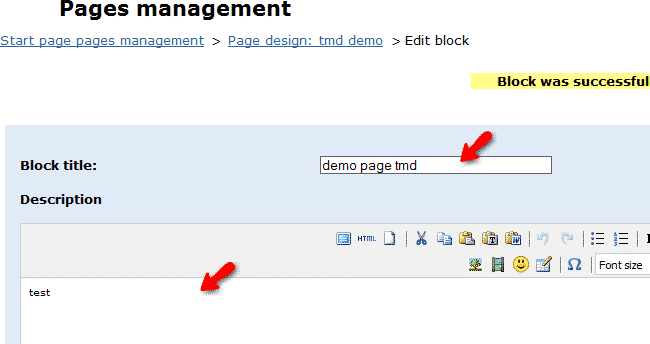 Now when your page content is created it is time to publish your newly created pages and content. You should refer to the Web Portal icon -> Pages tab where all the existing pages will be listed for you. Please click on the publish button for all of the pages that you would like to visible on your Docebo CMS platform.

You can access your newly published content via https://your-domain/doceboCms/.
If you would like to start your Docebo LMS in a few clicks, check the Docebo Hosting package.