Put no limits on your VirtueMart website functionalities by getting new features and addons. As a part of our free premium support service we will install any VirtueMart extension on your website completely free of charge.
You can download the Complete pack of the official modules of VirtueMart from here:
https://www.tmdhosting.com/tutorials/joomla15/joomla15-auto-installation.html
In the Complete Package of Virtue Mart there is a large list of different modules that you can add to your VirtueMart base installation. Below is a list of all modules included in the complete package archive:
mod_product_categories
"Product Categories Module"
It can display the product categories you have set up.
mod_productscroller
"Product Scroller Module"
It can scroll certain products somewhere on your site using a marquee tag.
mod_virtuemart_allinone
"All-in-one module"
Can display the latest, featured, top-ten or random products in one module using tabs.
mod_virtuemart_cart
"Mini-Cart Module"
Displays the mini-cart for the customer with a link to the cart page.
mod_virtuemart_currencies
"Currency Module"
Displays a drop down list of the Currencies, which are available/accepted in your Store.
mod_virtuemart_featuredprod
"Featured Products Module"
Can display featured products in your store. Featured products are those which are "on special".
mod_virtuemart_latestprod
"Latest Products Module"
Displays the newest products in your store.
mod_virtuemart_login
"Login Module"
Displays a Login Form for VirtueMart Users.
mod_virtuemart_manufacturers
"Manufacturer Module"
Shows all manufacturers from your store with a link to find all products of the selected manufacturer.
mod_virtuemart_randomprod
"Random Products Module"
Does what the name says: displays random products from your store or a certain category.
mod_virtuemart_search
"Searchbox Module"
Displays the VirtueMart searchbox (which lets the customer search for products).
mod_virtuemart_topten
"Top Ten Products Module"
Displays the bestsellers from your store.
You can easily install any or all of these modules via your Administrative panel -> Extensions -> Install/Uninstall tab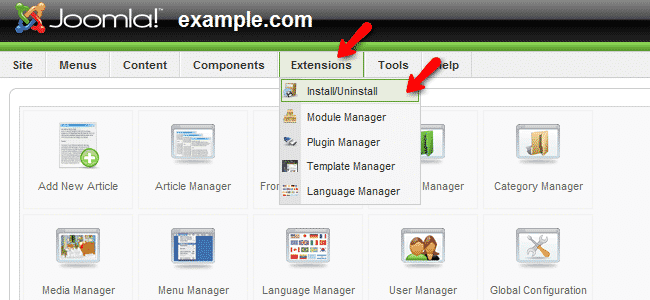 Click on the browse button and navigate to the VirtueMart_1.1.x-COMPLETE_PACKAGE.j15/modules/ on your local computer where you will be able to locate the required module installation file.